Purpose Built for Remote Working
Now is the time to review, plan and prepare a secure remote workspace strategy — and do it on your terms.
Covid-19 hasn't just changed the demand for remote knowledge workers, it has greatly accelerated it. And for IT departments, there were few options to quickly upgrade capital-intensive Virtual Desktop Infrastructures (VDIs) when employees were restricted to working from home. For many, expanding Citrix and/or VMware licenses and deploying hardware with VPN connections was the obvious choice — but one that is complex, expensive, and labor intensive.
Even in silicon valley, the trend for remote work increased exponentially this past year (see: IEEE Spectrum 2020). For the rest of businesses across America, accelerated remote-work policies have made many companies experience a survival first mentality. Businesses took calculated leaps and expanded remote work infrastructure.
One popular approach has been to renew or expand existing Citrix and other VDI licenses and infrastructure.
Hardware and users needed to be kept functional and, although not the original intent for these licenses, enterprises swiftly adopted what was familiar and trusted. The technology was understood, even though costly to acquire and manage.
Now that 2021 is here, it is time to examine what we have learned and we need to reflect on that initial transformation. Did our remote workspaces function correctly and are they an appropriate long-term solution for our organizations and users?
In summary, the IEEE Spectrum report lists procurement costs as well as software compliance and licensing inventory as the top two major difficulties associated with traditional (e.g. Citrix, VMware etc) desktop management solutions. Enhancing employee collaboration remained a top priority. As did, security vulnerabilities and risks associated with these workspace environments. The most frequently reported drawbacks for both solutions related to implementation cost and the required management complexity.
Opstack has identified 5 key areas of focus for enterprises looking to rationalize and optimize the technology supporting remote and hybrid workforce strategies. We took a thoughtful approach to this challenge, and we focused on remote work as a strategic priority for the enterprise. Not an afterthought or a stop-gap solution.
Top 5 things to consider with a remote work solution
In listening to our customers, the team has prioritized 5 areas when building out our Secure Virtual Desktop solution.
Secured Access: SVD starts with secure. It is built on top of Microsoft Windows Virtual Desktop, layering in security in-depth to protect enterprise data application, and users. No RDP ports are exposed to the public internet, role-based access controls and multi-factor authentication are the default, secrets are always protected. All of this is part of the out-of-the-box solution.

Scalability: SVD enables enterprises to seamlessly handle unanticipated spikes in workloads. Leveraging cloud capacity allows desktops to be provisioned quickly and made accessible to users from anywhere while maintaining all enterprise security standards. This can allow institutions to manage spikes in demand when and as needed.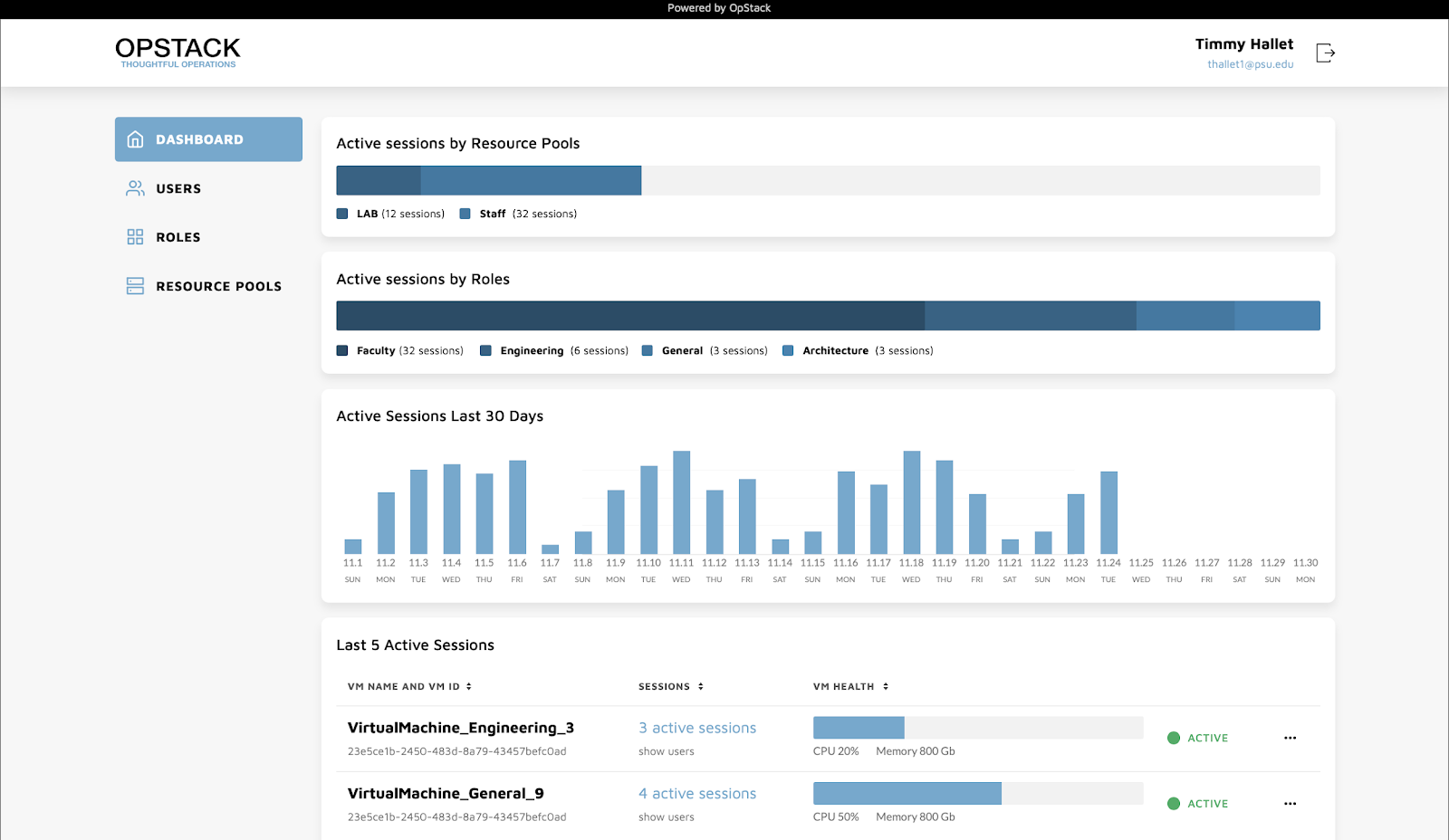 Cost Benefit: SVD gives customers predictable costs. OpStack SVD allows users to quickly scale up or down and pay only for what they use, removing capital expense and acquisition cycles while substantially reducing the monthly cost per active user. Our experience has been that most organizations have challenges managing these variable costs and why current, hardware-based, VDI solutions are either too cumbersome to manage or costly to implement. When an ongoing requirement is well understood, OpStack SVD allows enterprises to reserve capacity and further lower their monthly costs per user. OpStack designed the controls to simplify these remote desktop tasks for customers.

Operational Support: SVD is purpose-built to exploit the strengths of Microsoft's Azure infrastructure and services. SVD's purpose-built management portal allows your desktop support team to safely manage the virtual desktops — eliminating the complexity of full Azure subscription management. SVD includes the regular patching and maintenance activities needed to deliver end-user desktop services building on the strengths inherent in the Azure platform.

SVD provides a secure, turnkey solution with out-of-the-box controls for autoscaling, monitoring, patching and software upgrades, eliminating the need to build separate toolsets around infrastructure provisioning and automation.

As an example, the ability to restrict access to local drives, copy to clipboard, print or access other USB peripherals is all controllable from the SVD Admin Dashboard.

User Experience: SVD provides a better end-user experience through simplified accessibility, improved speed and performance. The concept of having a Gold image is made obsolete with OpStack's unique three tier provisioning model. Allowing end users to leverage personal devices to securely access an enterprise desktop environment from anywhere, eliminating the need to manage multiple computers.
OpStack helps customers analyze and build remote desktop plans they can be confident in. We can work with and guide you through the process or if you have your plan ready to go, use OpStack's SVP platform to manage it yourself.
Call us at 416-806-3711 or email john@opstack.com today to begin.